December 28th, 2007 at 5:20 am (Trips)
Wednesday evening, we checked out of the Aunt and Uncle's house and into the hotel – the Royal Kona Resort. Our reservation was for the garden tower, but when we checked in, I explained to our lovely reservation clerk that it was our first (and probably Bridget's only) trip to the Big Island (staying in a resort) and was there anything slightly nicer available? She moved us into the Ali Tower (which had been newly remodeled) with a garden view (but you could still see the ocean from our balcony). It was a great room. We settled in and went to bed early for our tour of the island in the morning. Apparently there are 13 types of climate zones in the world and the Big Island has 11 of them, so we were going to see them all!
We got up early so that we'd have plenty of time to get around the whole island. We kept getting warned that it takes 8 hours to drive the whole island, and that's just driving time (now I know it really only takes about 5 hours of driving, unless you're miss Daisy, which my Uncle probably is).
We hopped into the Jeep and started the trip right, by stopping at Burger King for breakfast sandwiches and coffee! Then we started the real trip. The road north was interesting. Obviously the desert or semi-arid area of the island. The roadside was dry brush and dark rock (on a volcanic island, go figure!). As with any rocky country with bored teenagers near it, graffiti coated the landscape to either side of the road. But these teenagers (or other industrious folks) had gotten creative. Instead of using spray paint, they used white rocks. I tried to get pictures, but they blurred while from driving and I wasn't about to stop traffic on a two-lane highway for graffiti pictures. Bridget did get a nice shot of Mauna Kea, the highest mountain peak on the island (and in the world, if measured from the ocean floor).
We were aiming for a road that would've saved us an hours drive, but somehow missed any signs indicating the road (there were none. Turns out it was a continuation of our favorite road -Palani).
But we got to see the climate change from arid to rainy to VERY rainy (apparently, it rains a lot in a rain forest, whodathunk?) We drove until we found the first of the waterfalls we wanted to see, Akaka falls. They were gorgeous. And rainy. Admittedly, there were breaks in the rain, but we were always a little soggy.
Then we had lunch (during which it rained) and saw Rainbow Falls and the Boiling Pots. Now, we heard the boiling pots were "just up the road", and decided to try hiking a path to see them. This was our first indication that we were dressed completely inappropriately for this adventure. We were in our sandals and sleeveless shirts hiking in muddy, rainy forest. And did we bring jackets? Of course not, Hawaii is warm and sunny, right?
We continued on to the volcanoes, feeling the temperature drop with each mile. We'd planned to hit the volcanoes around dusk to see the lava flows better, all glowy in the dark. Our first stop is the souvenir shop – to pick up jackets for our dumb asses (but hey, now I have a cool volcano jacket). And we drive to the volcano craters and look around. Did I mention it's raining again? The craters smoked and glowed a bit. We got to walk through an old lava tube. We saw lava flows from the past. But no flowing lava.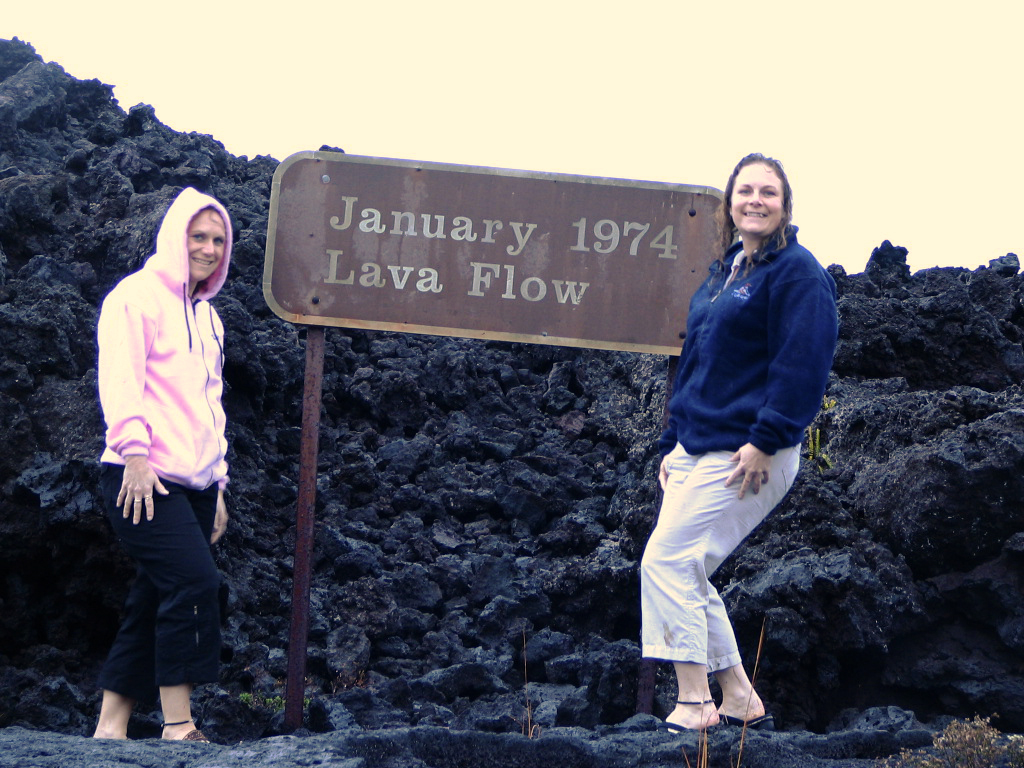 We drove down the windy path until it was almost full dark, to see the lava flow down the mountain into the ocean. And we drove. And drove. We finally came to the end of the road and got to hike a mile to where the active flows were usually visible and an old lava flow had crossed the road. It's full dark and we see…nothing. The lava decides that it's not flowing today or at least not visibly. It's flowing into the tubes.
So we get back into the Jeep and drive around the rest of the island, about 2 hours, back to the hotel. Bridget decides she's tired and goes right to bed. It's only 10 PM and I want a drink. So, I wander down to the hotel bar and have a Mai Tai. I also strike up a conversation with a guy from Australia, who didn't get his helicopter tour and is hoping to get one tomorrow. He's ok, but just interesting to talk to, not hot. The bartender, on the other hand, is hot. But working. So, after my drink, I wander up to bed. Tomorrow is for using the resort to its fullest.