May 31st, 2008 at 6:15 am (Uncategorized)
When I got back to the room, Deb still had company…who was sleeping in my bed. Apparently twin beds aren't conducive to sleeping two, go figure. Without much ado, she chased him out the door. I did ask how it went, but since that's not my story to tell, I'll just mention that it didn't go as well as hoped. Too bad. But I was exhausted and wanted to crash for a few hours, so that's what we did.
Anyone who knows me knows that I can go without a lot of sleep, especially when I'm on vacation. I really only need a few hours to get recharged. Every once in a while I'll crash for a good amount of time, but it doesn't happen often. So, I was up again around 9am, ready to go. I let Deb sleep while I showered, then annoyed her out of bed. She was a bit under the weather again, but not as bad.
Our destination for the day was Parliament and anything within the area of it: Westminster Abbey, the London Eye, Buckingham Palace. We take the Tube and head off, old pros by now. By the time we get there, we need food. I'm starving. But the only place we can find to eat is a noodle house. Not very authentic London food (it was probably better, mushy peas and all that).
Then we walk to get tickets for the London Eye. It's essentially a huge, slow-moving ferris wheel with a fabulous panoramic view of London.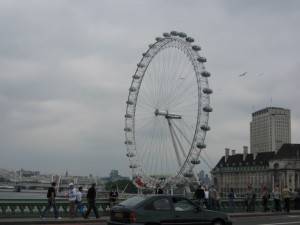 The line for this is huge, but moving. After a wait, we enter a car and start our gradual ascent. I am not fond of heights. Not afraid, just have great respect for the distance between me and the ground. So this is a bit of a challenge. I'm surrounded by glass on all sides with some great views of the city and nothing but metal and air beneath me. yeah…I tried not to think too much about it.
Still, we got some great pictures.
I think the funniest thing was we posed for the tourist picture they take of people riding the Eye. Most people didn't pay attention, but we saw the camera and actually posed, then we didn't bother looking at the print. We were such rude Americans.
After our ride, we walked by Parliament and Big Ben.
Then we head over to Westminster Abbey. Unfortunately, it's Sunday and there are no tours since people apparently want to go to church or some godforsaken such thing. Feh. But the outside is beautiful.
And very tall.

We walk on to see Buckingham Palace. On the way, I get a picture of my next car.


I really think I need this for Bay Area traffic. Honest.
According to legend (ok the guide book, but it has a legend), the Queen parades through the park the first weekend in June. Strangely, she decided to do it the day before, which was still May. The moral of the story is, we missed it. Still, we saw the palace and the gates and fountain.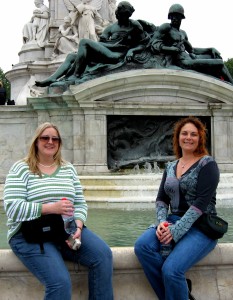 And somehow manage to not get any good shots of the palace itself. Bummer.
Then we walk some more, go find food and play in call boxes. The Brits don't understand why we find these fascinating, but we do.
I got a few strange looks when banging on the door like I was trapped.
Then we went back to our room, slept for an hour and went pubbing. (Yes, it's a word.) We found the Southwark Tavern, which turned out to be a favorite.
This is where I got my second marriage proposal. I was telling the story to the guys who decided to buy us drinks (that happened a lot, yay!), and Nelson (I could've had a Portugal stamp), told me that I should forget the Irish guy because he (Nelson) would make me happy. I have to say, I did consider taking him home, but German dude was still on my mind, though he wouldn't come out on a school night (nor be tempted, damn it!). So both Deb and I went home empty handed.